How to set up a successful crowdfunding campaign
So you have heard about crowdfunding campaigns and the concept seems to be a good fit to collect the funds you need for your project. But where to start? How to lay down the foundations for your crowdfunding campaign?
The Stars4All Crowdfunding Platform will host your Light Pollution Initiative or related projece, allowing you to collect funds through a donation or reward scheme. If you want to publish your project on the Stars4All Crowdfunding Platform, all you have to do is follow some easy steps:
1. Go to the "Submit a Project" section (last tab on top dashboard)
2. Develop your project description. In order to guide you through the process, we have broken it down into smaller sections, so you can fill out each sub-section providing both basic and additional information about your project

3. Tell us more about yourself: allow your potential backers to know you a little more by providing information about you, your organisation, your location, and the team behind the project.
4. Draw up a list of rewards that you are willing to give in exchange for your backers' support and contributions. The list should be incremental, and so should be the rewards (i.e. 5 euro = a personalised thank you to each backer on social media channels of the project; 10 euro = a thank you on social media and a mug...). Be aware that the more exclusive the rewards are, the more they will incentivize people to contribute and support your campaign!
5. Make sure to provide us with all required financial coordonnates about your company/association: NONE OF IT WILL BE DISCLOSED, but we will need it to ensure the transfer of contributions once the campaign is closed and has reached its target goal.
6. Review your draft and edit it at any time. Once you are satisfied with your draft, you can submit it to a plaform Manager. We will review it and contact you within 3 working days to schedule a Skype call and assess the draft. Once it is polished and ready to go, you will be able to finalise the application and re-submit it to a platform Manager.

7. The platform manager will validate your draft and you will be ready to start collecting funds for your project! Your project will be displayed on our homepage and will appear as in the picture below, but interested people will be able to access all the details by clicking on the "View" tab.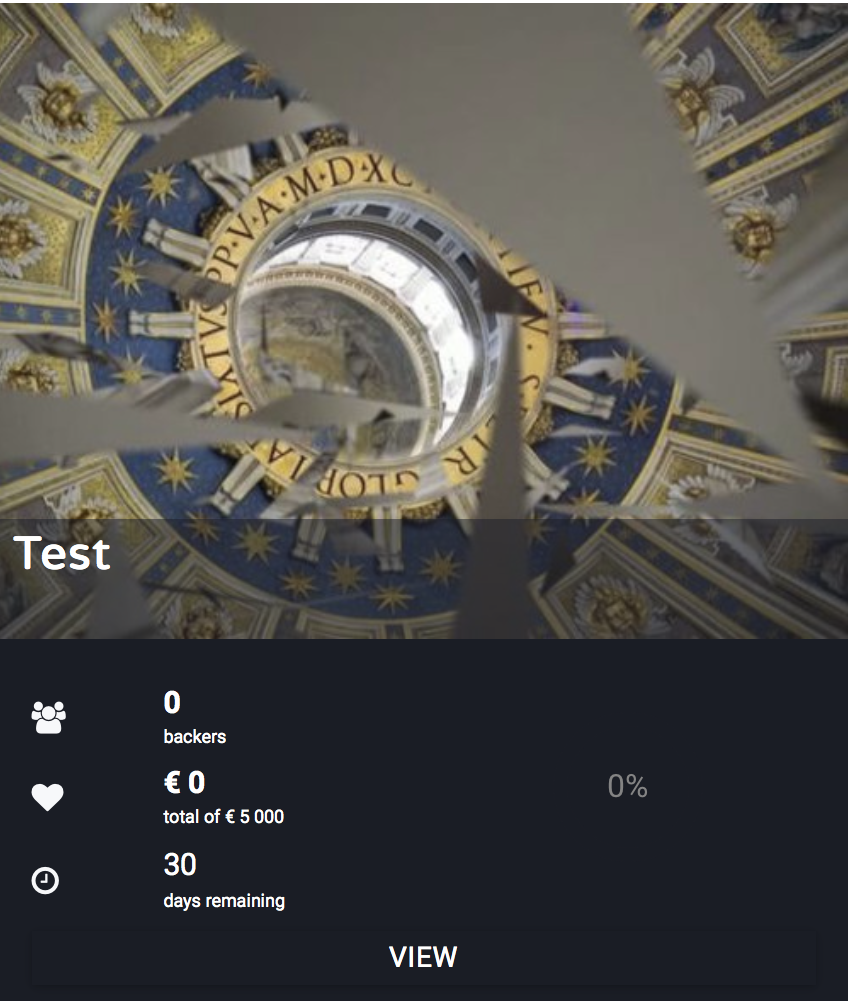 We have told you all there is to know about the "technical" procedure to have your project featured on our Stars4All Crowdfunding Platform, and we still here to help you a little more with the practical development of the project description! We have developed an easy to read, tailored crowdfunding handbook that will help you develop and publish your project on the Stars4All Crowdfunding Platform. The handbook guides you in structuring every step of your crowdfunding campaing and includes a case study that presents an overview of the most common "dos and don'ts":
PARSING ERROR : Invalid closing token end for tag li.
Source: "15 steps to crowdfunding", European Crowdfunding Network. More information and videos on the ECN website: http://bit.ly/2ncsRR9