How to set up a successful crowdfunding campaign
So you have heard about crowdfunding campaigns and the concept seems to be a good fit to collect the funds you need for your project. But where to start? How to lay down the foundations for your crowdfunding campaign?
The Stars4All Crowdfunding Platform will host your Light Pollution Initiative or related projece, allowing you to collect funds through a donation or reward scheme. If you want to publish your project on the Stars4All Crowdfunding Platform, all you have to do is follow some easy steps:
1. Go to the "Submit a Project" section (last tab on top dashboard)
2. Develop your project description. In order to guide you through the process, we have broken it down into smaller sections, so you can fill out each sub-section providing both basic and additional information about your project

3. Tell us more about yourself: allow your potential backers to know you a little more by providing information about you, your organisation, your location, and the team behind the project.
4. Draw up a list of rewards that you are willing to give in exchange for your backers' support and contributions. The list should be incremental, and so should be the rewards (i.e. 5 euro = a personalised thank you to each backer on social media channels of the project; 10 euro = a thank you on social media and a mug...). Be aware that the more exclusive the rewards are, the more they will incentivize people to contribute and support your campaign!
5. Make sure to provide us with all required financial coordonnates about your company/association: NONE OF IT WILL BE DISCLOSED, but we will need it to ensure the transfer of contributions once the campaign is closed and has reached its target goal.
6. Review your draft and edit it at any time. Once you are satisfied with your draft, you can submit it to a plaform Manager. We will review it and contact you within 3 working days to schedule a Skype call and assess the draft. Once it is polished and ready to go, you will be able to finalise the application and re-submit it to a platform Manager.

7. The platform manager will validate your draft and you will be ready to start collecting funds for your project! Your project will be displayed on our homepage and will appear as in the picture below, but interested people will be able to access all the details by clicking on the "View" tab.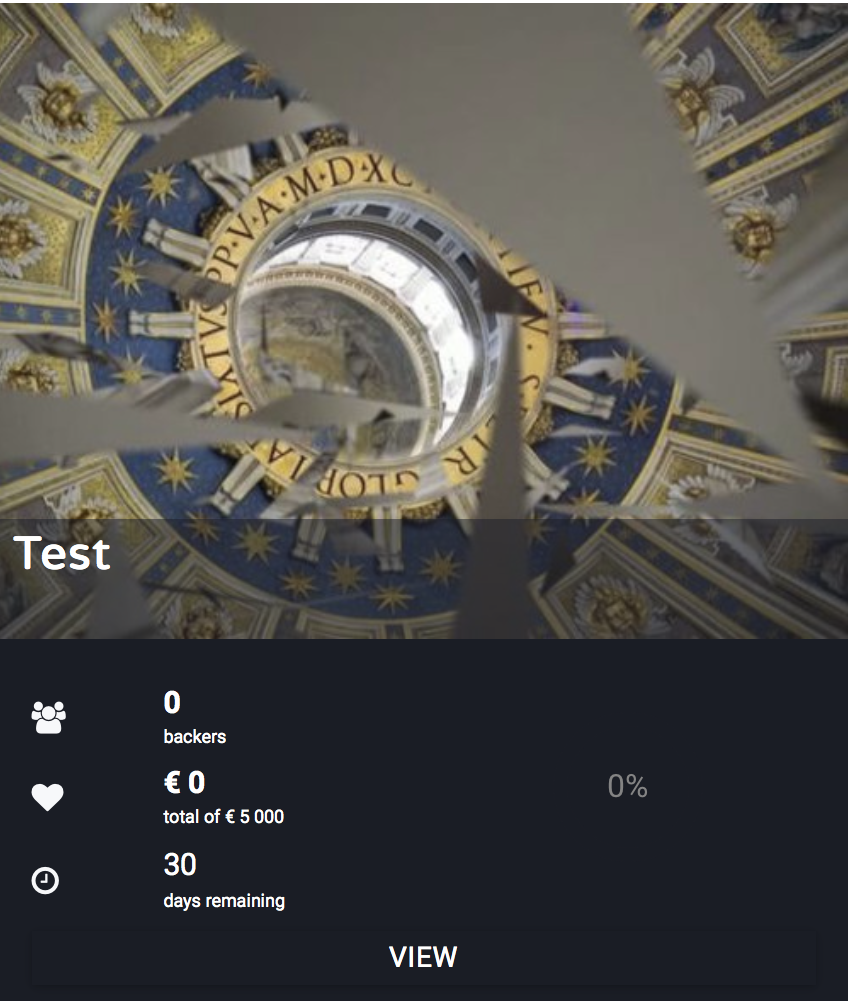 We have told you all there is to know about the "technical" procedure to have your project featured on our Stars4All Crowdfunding Platform, and we still here to help you a little more with the practical development of the project description! We have developed an easy to read, tailored crowdfunding handbook that will help you develop and publish your project on the Stars4All Crowdfunding Platform. The handbook guides you in structuring every step of your crowdfunding campaing and includes a case study that presents an overview of the most common "dos and don'ts":
You might also want to take a look at some general tips below:
place

Set a clear objective

To create a crowdfunding campaign you have to set a clear objective and make sure that this goal is shared by funders, staff and partners. The clearer, more concise and specific you are, the better the chances that the crowdfunding campaign will live up to the funding goals you have set.

The key to running a successful campaign is to focus on one prioritized objective and seek finance for that. You have also to consider that smart planning can and should involve asking experts for assistance, as to make your objective smart!

place

Set your funding target

To set your funding target you have to begin with your financial plan. To define the right amount you would like to raise with your campaign, you have to specify all costs and outlays of the project and account for the platform's fees and other campaign related costs..

place

Identify the fitting type

It is important that your project's characteristics match the crowdfunding type that you will choose. Each type of crowdfunding has its own funding limits, so after setting your financial needs you can move on to identify the types of crowdfunding that best suityour project.

donation-based campaigns are commonly limited to 30.000 Euro, reward-based campaigns may generate much more, typically around 50.000 Euro. Be also aware of the risk regarding crowdfunding campaigns set on all-or-nothing terms.

For larger sums you may want to consider equity crowdfunding or P2B lending. Keeping in mind all these factors, you have to choose the most suitable type of crowdfunding for your project or you can combine various types using the mixed model.

place

Set out your value proposition

To set out your value proposition you have to find out your target group's preferences and create attractive rewards and perks to capture your funders' attention.

It is also important to prepare a convincing story whereyou explain your backers why you are running the campaign, what's the project about and why and how they should support you. It is also very effective to present yourself, the organization and the current status of the project.

place

Communication and marketing

Before you launch the campaign you have to conduct a thorough research to find benchmarks for your project, to try to relate your campaign to relevant news, topics and events and to find the best channels and multipliers for your communication actions.

You also have to prepare usable information for your funders and followers not only in a digital way, but as well, depending on the situation, via traditional marketing media that could complement your digital efforts. The more you keep your community informed, the better chances you have to gain support.

Finally, focus on your inner circle and existing networks first,thentry to reach new communities by leveraging influencers and various communication channels. Recent research, in fact, showsthat the so-called "third circle" may be even more important for the campaign's success,as it enjoys wide following.

Once the groundwork is done, the time has come to put your campaign online. You may set up your own campaign site with DIY ("do it yourself") crowdfunding and payment tools or you can register on an existingplatform. The opted-for type of crowdfunding determines which selection of platforms may suit your needs best.

place

How to engage your network and go beyond

place

How to create compelling incentives for your backers

Substantial effort needs to be done for the development of an attractive incentive structure custom-tailored for your audience. Such structure depends on the type of crowdfunding you have chosen, and the profile of your project.

To create compelling incentives for your backers you have to think at what your target group likes and ask them if you don't know, and it is also important to understand their motivation in financing your project. To have a general idea you can also take a look at similar campaigns.

In general, no matter what crowdfunding type, you have always to keep costs as low as possible, create perks that appear valuable and scale up by introducing thresholds. In the case of reward crowdfunding, think about categories and don´t forget to set small and big rewards.

place

How to shoot a convincing crowdfunding video

For a successful crowdfunding campaign a very powerful tool to use is a video pitch. Just consider that 50% of projects that include video get funded, against only 30% of those that do not. To create it you have to make surethat your video story is appealing,interesting and convincing, as well as consistent with your value proposition. Even if you are not a professional video maker you could create a nice video: all you need is a camera, a video editing software tool, and our suggestions.

General Tips:

Tell a good story

Give it a face

Keep it short (3-4 minutes maximum)

Say thank you

Make it fun

place

How to follow up with your supporters

When your campaign is over, enjoy having achieved your goal. But keep in mind that from the perspective of your supporters you still have to deliver on your promises. If you have clearly communicated the benefits for your contributors, do all these benefits show up? If so, you have to inform your audience, give updates and keep communicating.

Generally, depending on the characteristics of your specific project, it will be in your interest to keep your community and make it lively. You have to keep interest up on your project and inform supporters on your next steps.

place

Checklist

Keep the following points in perspective:




1. Identify current networks, create a community

2. Articulate clear goal of the project

3. Draw up a consistent and confidence-building message

4. Create the project's story

5. Research and identify partners for production, delivery, etc.

6. Research and identify communication channels, in particular 1-on-1 meetings and social media

7. Research and identify fitting crowdfunding model

8. Research and compare current and similar campaigns

9. Research in depth your target groups

10. Develop convincing incentive structure

11. Set timeline and mark everything relevant

12. Plan and set video shooting

13. Set communication team and strategy

14. Prepare for various scenarios by drawing up lists you will need

15. Test your project story and incentives within your network before you go live

16. Plan information flow pre-, during and post-campaign

17. Ensure all promises are delivered on.
Source: "15 steps to crowdfunding", European Crowdfunding Network. More information and videos on the ECN website: http://bit.ly/2ncsRR9